---
e listings at

*CALCOASTHOMES.COM is a Newsletter Featuring Fine and Affordable Properties with information supplied by licensed Realtors
AARON MCATHY AND GRETCHEN FRY WITH TICOR TITLE - SUPERIOR PEOPLE. SUPERIOR SERVICE.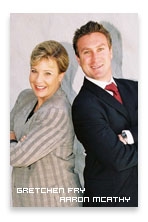 Call Aaron And Gretchen For All Your Title Needs
Aaron's Direct Phone Number Is: (714) 336-7844 And His E-Mail Address Is: aaronmcathy@yahoo.com
Gretchen's Direct Phone Number Is: (949) 683-6831 And Her E-Mail Address Is: gret101@aol.com
Their Office Address Is: 25B Technology #100, Irvine, CA. 92618
We Specialize In The City Of Huntington Beach And Surrounding Areas
Gretchen Fry and Aaron McAthy join an elite group of Orange County's finest sales representatives. Gretchen with over 29 years of experience in the Real Estate Industry and Aaron with over 3 years experience after graduating for UCSB, bring together a wonderful combination of enthusiasm and professionalism. Gretchen and Aaron service the cites of Huntington Beach, Fountain Valley, Costa Mesa, and Newport Beach.

While offering a variety of value added products and services and utilizing technology to enhance productivity and delivery, Ticor Title endorses a customer concentric approach culminating in strong strategic relationships with residential and commercial brokers, institutional lenders, investors, developers, mortgage bankers and real estate attorneys to name a few. Of the many products available to their customers is online ordering 24/7 which is fast, accurate and secure with immediate order confirmation, order tracking and status. Also offered is a complete package of customer service tools and specialized residential and commercial title information services as well as integrated and electronic product delivery to accommodate a customer's specific needs and requirements.

Ticor's tremendous financial strength is backed by reserves of $940 million, which is the largest in the industry. Their claims paying ability provides customers with peace of mind and consistently earns "A" ratings or higher from Standard's & Poor's, Moody's, Fitch and A.M. Best.

For all your Title Insurance needs give Gretchen and Aaron the opportunity to earn your business and make you look good, one transaction at a time.
PLEASE BE SURE TO MENTION TO AARON AND GRETCHEN THAT YOU SAW THEIR WEBPAGE ON CALCOASTHOMES.COM!!