*CALCOASTHOMES.COM is a Newsletter Featuring Fine and Affordable Properties with information supplied by licensed Realtors
PEGGY GOLDEN WITH CHAMPION REAL ESTATE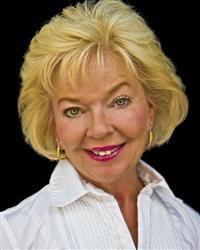 Call Peggy For All Your Real Estate Needs at: (805) 260-8410 Or (805) 349-7777
Peggy's E-Mail Address is: peggygolden1@gmail.com
About Peggy:
*Licensed California Realtor since 1979
*40 Years Full-Time Central Coast Real Estate Broker
*Former Education Committee Chairperson
*Former Professional Standards Chairperson
*Los Alamos Resident
*Long Term Independent Real Estate Company Owner

Personal Information:
*Born in Wenatchee Washington
*Raised in Prairie Village, Kansas
*Bachelor of Science Degree in Social
Welfare from Kansas University
*Associate of Science Degree in Viticulture
from Allan Hancock College
*Hobbies- Sailing, Gardening, Winemaking,
Traveling and cooking

There are many reasons why my clients remain loyal to me, but the main one is that I remain their Real Estate professional for life! I dedicate my expertise, knowledge, negotiating skills, enthusiasm and sense of humor into every day of my work as your Real Estate Broker. I sell everything from Mobile Homes to Mansions! FOR A SMOOTH AND FUN REAL ESTATE TRANSACTION, CALL ME!!!
My Listings:

519 West Taylor Street 110 -
Santa Maria
CHAMPION REAL ESTATE

APPEALING OPPORTUNITY !! Great price, excellent location, and attractive monthly space rent of $722 at this gated, age (55 Plus) restricted community of Casa Grande Mobile Estates of Santa Maria sparks your interest immediately !! Upon finding that there was a new roof installed in 2019, as well as newer forced air heating system and plumbing draws you in closer. When you see the abundant kitchen storage and island table, attractive dining room with built-in hutch, living room with sunset views, lovely patio room, and 2 Bright Bathrooms and 2 Bedrooms, You'll be ready to move in !! The community offers mature landscaping with ample green space areas, pitch and putt Golf course, remodeled Clubhouse, pool, spa, and BBQ areas sure to please many interest.

The Approximately 1,152 Square Feet Of Living Area Has Tons Of Potential!!!!!
Offered At: $74,900

Proudly Presented By:
Peggy Golden -
Office: (805) 349-7777
Direct: (805) 260-8410
E-Mail: peggygolden1@gmail.com

1873 River Ranch Drive -
Santa Maria
CHAMPION REAL ESTATE

SOLD
LIGHT, BRIGHT, and IMPRESSIVE !! This delightful Second Level Santa Maria River Ranch 2 Bedroom, 2 Bathroom Condo is filled with an abundant natural light from all the windows and two large skylights. The concept living areas include a cozy fireplace, handsome laminate flooring, granite countertops in the kitchen, and a remarkable amount of cabinets and storage all around. You'll fall in love with this move-in ready Property.

The Best Feature Is The Approximately 867 Square Feet!!!!!
Now Offered At: $215,000

Proudly Presented By:
Peggy Golden -
Office: (805) 349-7777
Direct: (805) 260-8410
E-Mail: peggygolden1@gmail.com

220 East Grant Street Unit 47 -
Santa Maria
CHAMPION REAL ESTATE

SOLD
SENSATIONAL SINGLE LEVEL Santa Maria River Ranch 2 Bedroom, 2 Bathroom Condo is ready for you to move in!! You'll enjoy the impressive spacious kitchen with gleaming counter tops and breakfast bar that leads to the sweeping concept living and dining areas, both with upgraded laminate flooring for easy maintenance !! This Property has been impeccably maintained and the water heater and wall heaters are newer. Two patio areas provide remarkable exterior enjoyment.

You'll Get Approximately 987 Square Feet Of Your Own!!!!!
Now Offered At: $219,000

Proudly Presented By:
Peggy Golden -
Office: (805) 349-7777
Direct: (805) 260-8410
E-Mail: peggygolden1@gmail.com

684 Clubhouse Drive -
Santa Maria
CHAMPION REAL ESTATE

SOLD
REMARKABLE Santa Maria Foxenwoods 4 bedroom/2.5 bath Two Level Home with approximately $70,000 in renovations awaits you here !! All acoustic ceilings have been removed, all corners bull-nosed, and a handsome oak stair railing installed. There is an impressive hard-wired visual security system, water softener, dual pane windows throughout, multiple ceiling fans, as well as an authentic SM BBQ included. The fabulous kitchen remodel includes tile flooring, counter tops, and gleaming back splash, as well as a 5 burner gas range, double ovens, new faucet and sinks, and a charming dine-in feature. All bathrooms have been lovingly re-accomplished with appealing showers, vanities, and tile flooring. Other accessory features include new fencing, a chicken coop, dog run, storage shed, RV parking, and MORE !!

It Has 2,484 Square Feet Of Living Area Country Style!!!!!
Now Offered At: $599,000

Proudly Presented By:
Peggy Golden -
Office: (805) 349-7777
Direct: (805) 260-8410
E-Mail: peggygolden1@gmail.com

355 West Clark Avenue #12 -
Orcutt
CHAMPION REAL ESTATE
SOLD
Situated In The Senior Adult Park Of Orcutt Ranch Is This Home That Was Converted From A Two Bedroom To A One Bedroom Home So It Provides An Open, Spacious Living Area And It Can Be Converted Back By The New Owner. The 6'X36' Enclosed Patio Has Not Been Included In The Square Footage And Is Very Light And Airy. With Newer Carpet And Paint Throughout The Interior. This Home Is Move-In Ready.

Walk To Shops And Restaurants In Old Town Orcutt.

You Can Purchase It Now!!!!!
Offered At: $19,900

Proudly Presented By:
Peggy Golden -
Office: (805) 349-7777
Direct: (805) 260-8410
E-Mail: peggygolden1@gmail.com

355 West Clark Avenue #42 -
Orcutt
CHAMPION REAL ESTATE
SOLD
Enjoy The Wooded, Relaxed Setting Of Orcutt Ranch, A Senior Adult Complex In This Beautifully Maintained Home With Two Bedrooms, A Covered Porch And An Open Floor Plan! It's Located Looking At The Swimming Pool And Clubhouse. The Space Rent Is $443 Per Month.

Shops And Excellent Dining Is Within Walking Distance.

Where Else Can You Get A Bargain Like This In A Well Established Community!!!!!
Offered At: $24,900

Proudly Presented By:
Peggy Golden -
Office: (805) 349-7777
Direct: (805) 260-8410
E-Mail: peggygolden1@gmail.com

1330 Primavera Lane -
Nipomo
CHAMPION REAL ESTATE
SOLD
Tranquil Setting With Loads Of Amenities! This Single Story 5 Bedroom, 3 Bathroom Split Floor Plan Comes With Approximately 2,767 Square Feet Of Living Space And It Sits On A Huge Lot That's Almost An Acre. It Is Currently Licensed As A Residential Care Facility Making A Unique Opportunity. Enjoy Your Shiny Bright Eat-In Kitchen With Tons Of Storage In Addition To A Stylish Great Room. The Master Suite Has A Whirlpool Tub, A Separate Shower And A Large Walk-In Closet. Your Bonuses Are: A Go Kart Track In The Backyard And A 3 Car Garage With RV Access.

Situated In A Quiet Neighborhood Near Shopping And Schools.

What Are You Waiting For, Call Me Now!!!!!
Now Offered At: $675,000

Proudly Presented By:
Peggy Golden -
Office: (805) 349-7777
Direct: (805) 260-8410
E-Mail: peggygolden1@gmail.com

601 Dale Way -
Orcutt
CHAMPION REAL ESTATE
SOLD!!!!!
Everything You Could Want! This Well Built Single Story Orcutt Home Provides The Ability To Move From This Beautifully Updated Interior Easily To The Sunny Front Courtyard Or Expansive Private Rear Yard Featuring A Serene Pond Area, A Covered Patio, A Garden As Well As A 378 Square Foot Permitted Workshop. There Are 3 Bedrooms, 2 Remodeled Bathrooms And A Total Of Approximately 1,606 Square Feet Of Living Space. Other Features Include: Plush Newer Carpet, Wood Laminate Flooring In The Kitchen And Family Room, A Warm Brick Fireplace In The Family Room, A Guest Quarters And Recreational Vehicle/Boat Parking.

Located Near Shopping And Schools.

You Could Purchase It Now, All Offers Are Welcome!!!!!
Offered At: $424,900

Proudly Presented By:
Peggy Golden -
Office: (805) 349-7777
Direct: (805) 260-8410
E-Mail: peggygolden1@gmail.com

4407 Cedar Street -
Guadalupe
CHAMPION REAL ESTATE
Wow!! You Must See This Single Story Guadalupe Home To Appreciate All Of The Upgrades. There Are 4 Bedrooms In Which The Master Suite And Bathroom Were Added And Permitted In 1997, A Total Of 2 Bathrooms And Approximately 1,580 Square Feet Of Living Space. Other Improvements Include: Dual Paned Windows Throughout, New Interior And Exterior Paint, A Complete Hall Bathroom Remodel Including Plumbing, Electrical And A Whirlpool Tub. There Is Even New Carpet And Kitchen Fixtures Which Were Added 5 Years Ago. There's Even A 2 Car Garage.

Near Shopping, Restaurants, The Guadalupe Sand Dunes And A Beach.

My Very Motivated Sellers Say Sell It Now!!!!!
Now Offered At: $210,000

Proudly Presented By:
Peggy Golden -
Office: (805) 349-7777
Direct: (805) 260-8410
E-Mail: peggygolden1@gmail.com

4849 Tiffany Park Circle -
Orcutt
CHAMPION REAL ESTATE
SOLD!!!!!
You'll Be Impressed With This Extraordinary Single Story Tiffany Park Home. It Has A Beautiful, Permitted Addition Which Has Created A Super Spacious And Private Master Suite With A Walk-In Closet, Storage, Bookshelves And Access To The Patio. There Are Even Wonderful California Style Closets Throughout. Enjoy Gorgeous Yards With A Huge Barbecue And 13 Mature Fruit Trees. There Are 4 Bedrooms, 2 Bathrooms, Approximately 2,158 Square Feet Of Living Space And It Sits On A Good Sized Lot Of Approximately 10,019 Square Feet. Take Note: You Get A 2 Car Attached Garage As Well.

Close To The 101 Freeway, Shopping, Restaurants And Schools.

To See It Is To Buy It!!!!!
Now Offered at: $529,000

Proudly Presented By:
Peggy Golden -
Office: (805) 349-7777
Direct: (805) 260-8410
E-Mail: peggygolden1@gmail.com

1701 South Thornburg Street #140 -
Santa Maria
CHAMPION REAL ESTATE
SOLD!!!!!
Here's An Extremely Spacious Home With A Split Floor Plan. There Are 3 Bedrooms, 2 Bathrooms And Approximately 1,488 Square Feet Of Living Space. Amenities Include: A Central Kitchen With A Breakfast Bar, A Nice Enclosed Sun/Patio Room And A Nice Perimeter Location In La Maria Mobile Home Community Which Is For Senior Residents Of 55 Years And Older.

Walk To Shopping And Restaurants.

I Have Very Motivated Sellers Here!!!!!
Offered at: $69,000

Proudly Presented By:
Peggy Golden -
Office: (805) 349-7777
Direct: (805) 260-8410
E-Mail: peggygolden1@gmail.com

380 Highland Drive -
Orcutt
CHAMPION REAL ESTATE
This Well-Located Orcutt Single Story Home Has Loads Of Desirable Improvements! There Are 3 Bedrooms, 2 Bathrooms And Approximately 1,750 Square Feet Of Living Space. Amenities Include: A Beautifully Remodeled Kitchen With A Pantry, Tile Counters, Flooring And Newer Appliances. Also, There Is Lots Of Wood Flooring. Enjoy A Permitted Sun Room With A Fireplace And An Awesome View Of The Hills. Your Bonus Is A Permitted Bedroom Addition And More. The 2 Car Attached Garage Has Direct Access Into The Home.

Close To Shopping, Schools, Parks, The 101 Freeway And More.

Just Purchase It Now!!!!!
Now Offered at: $424,900

Proudly Presented By:
Peggy Golden -
Office: (805) 349-7777
Direct: (805) 260-8410
E-Mail: peggygolden1@gmail.com

9278 Highway 101 #40 -
Los Alamos
CHAMPION REAL ESTATE
SOLD!!!!!
Here Is One Of The Finest Homes In Rancho Los Alamos!!! It Is Located Away From The Freeway, You'll Love The Serenity Of The Setting And A Beautiful View From The Kitchen Window. There Are 3 Bedrooms, 2 Bathrooms And Approximately 1,440 Square Feet Of Living Space. This Is A Desirable Split Floor Plan That Has Been Meticulously Maintained And Has A Newer Roof, Paint And A Spacious Sparkling Clean Kitchen.

Could It Get Any Better That This?????
Offered at: $125,000

Proudly Presented By:
Peggy Golden -
Office: (805) 349-7777
Direct: (805) 260-8410
E-Mail: peggygolden1@gmail.com

9278 Highway 101 #9 -
Los Alamos
CHAMPION REAL ESTATE
This Is A Fantastic Floor Plan And It's Meticulously Maintained Throughout. There Are 3 Bedrooms, 3 Bathrooms And Approximately 1,200 Square Feet Of Living Space. Amenities Include: A Spacious Kitchen Which Opens To The Dining Area And A Light, Bright Living Room. The Wonderful Split Floor Plan Is Ready For You.

You're Situated In An All Age Park In A Prime Rancho Los Alamos Development.

Enjoy That Quiet Lifestyle With Great Neighbors!!!!
Now Offered at: $99,999

Proudly Presented By:
Peggy Golden -
Office: (805) 349-7777
Direct: (805) 260-8410
E-Mail: peggygolden1@gmail.com

2056 Greenwood Road -
Orcutt
CHAMPION REAL ESTATE
SOLD!!!!!
Super Clean And Move-In Ready Describes This Single Story Tanglewood Home. There Are 3 Bedrooms, 2 Updated Bathrooms And Approximately 1,250 Square Feet Of Living Space. The Interior Of This House Includes: Dual Paned Windows, Updated Kitchen Appliances And A Faucet And Lots Of Tile Flooring Throughout The Living Areas. On The Exterior Of This Property, You'll Find Lawn Areas With Sprinklers And Lots Of Extra Paved Parking Opportunities.

Where Else Can You Find A Place For This Price?
Offered at: $395,000

Proudly Presented By:
Peggy Golden -
Office: (805) 349-7777
Direct: (805) 260-8410
E-Mail: peggygolden1@gmail.com

225 Marquis Place -
Santa Maria
CHAMPION REAL ESTATE
SOLD!!!!!
Wow!!! This Two Story Towhome Has An All New Interior Including Carpet, Tile Floors, Paint, Light Fixtures And A Complete Kitchen Remodel With New Cabinets, Appliances, A Sink And Faucet. The Counter Tops Have Been Extended And There Is A Wall Which Has Been Opened To The Dining Room. Relax On One Of The Two Open Patios. One Of Them Is Covered And There Is A Courtyard Area. You Get A Total Of 3 Bedrooms, 2 Bathrooms And Approximately 1,500 Square Feet Of Living Space.

Walk To The Association Swimming Pool Or To Vons Grocery Store!!!!

It's Truly An Attractive Property!!!!
Offered at: $360,000

Proudly Presented By:
Peggy Golden -
Office: (805) 349-7777
Direct: (805) 260-8410
E-Mail: peggygolden1@gmail.com

1905 South Noroeste -
Santa Maria
CHAMPION REAL ESTATE
SOLD!!!!!
Welcome To This Charming Westgate Ranch Single Story Home Where Pride Of Ownership Is Detailed In Every Feature!!!! There Are 4 Bedrooms, 2 Bathrooms And More Than 1,700 Square Feet Of Living Space. Amenities Of This Split Floor Plan Include: Mature Landscaping Which Compliments The Private Back Yard With A Freshly Painted Deck And Open Covered Patios With A Custom Tile/Gas Barbecue. The Seller Is Even Going To Leave The Exterior Furniture. Enjoy That Wonderful 2 Car Attached Garage.

You're Close To Everything That You Can Imagine.

Take One Look And You'll Want To Make Your Offer Pronto!!!!
Offered at: $489,000

Proudly Presented By:
Peggy Golden -
Office: (805) 349-7777
Direct: (805) 260-8410
E-Mail: peggygolden1@gmail.com

321 East Inger Drive #G55 -
Santa Maria
CHAMPION REAL ESTATE
SOLD!!!!!
Well Located Is This Private Single Story 1 Bedroom, 1 Bathroom Las Palmas Condominium With Approximately 850 Square Feet Of Living Space. Amenities Include: Upgraded Tile Flooring, Sculptured Berber Carpet, A Spacious Master Suite With A Large Walk-In Closet And A Good Sized Bathroom With A Tub And Shower. You Also Get A Laundry And Storage Room Which Are Off Of The Covered Patio. The Price Includes A Washer, Dryer And Refrigerator.

This Lovely Condo Is Around The Corner From The Community Swimming Pool In This Choice Gated Community!!!!

You Can Buy It Now!!!!
Offered at: $224,000

Proudly Presented By:
Peggy Golden -
Office: (805) 349-7777
Direct: (805) 260-8410
E-Mail: peggygolden1@gmail.com

510 East San Antonio Drive -
Orcutt
CHAMPION REAL ESTATE
SOLD!!!!
Beautiful Is The Word That Best Describes This Two Story Home With Lots Of Wonderful Amenities Throughout. The House Comes With 4 Bedrooms, 3 Bathrooms And Approximately 2,220 Square Feet Of Living Space. The Lot Size Is Large At Approximately 7,405 Square Feet. Upgrades Include: Tile Flooring In The Bathroom And In The Huge Laundry Room, A Walk-In Pantry Off Of The Gorgeous Kitchen With Granite Slab Counters, A Backsplash, Stainless Sinks, Faucets, A Spacious Master Bathroom With A Huge Walk-In Closet, A Garden Tub, A Separate Shower And A 3 Car Attached Garage That Is Finished. There's Also Recreational Vehicle Access And A Boat Parking Area Which Is Ready For The New Owner. The South Facing Backyard Comes With A Spa.

Near Shopping!!!!

Lots Of Custom Quality Prevails In This Nice Orcutt Property!!!
Offered at: $589,900

Proudly Presented By:
Peggy Golden -
Office: (805) 349-7777
Direct: (805) 260-8410
E-Mail: peggygolden1@gmail.com

1960 South McClelland Street #7 -
Santa Maria
CHAMPION REAL ESTATE
SOLD!!!!
Here Is A Beautiful End Unit In Coral Tree 2 With Lots Of Custom Touches. This Property Features 2 Bedrooms, 2 Bathrooms And Approximately 1,080 Square Feet Of Living Space. The Interior Has Just Been Painted And The Kitchen Has Custom-Painted Cabinets. The Entry And Bathroom Floors Are Done In Stamped Concrete. The Current Owner Has Just Installed Plantation Shutters And Lots, Lots, More. You Also Get 2 Parking Spaces.

Walk To Shopping!!!!

There's No Need To Preview, Just Submit Your Offer Now!!!!
Offered at: $315,990

Proudly Presented By:
Peggy Golden -
Office: (805) 349-7777
Direct: (805) 260-8410
E-Mail: peggygolden1@gmail.com

1900 South Lincoln #E29 -
Santa Maria
CHAMPION REAL ESTATE
You Can Now Purchase This Fantastic Opportunity For Affordable Living In A Family Park!!!! Situated On A Nice Corner Location With Laundry Hook-Ups, Hardwood Kitchen Cabinets And A Permitted Patio Room. This Property Has 2 Bedrooms And 1 Bathroom.

Close To Everything That This All American City Has To Offer!!!!

We Are Ready For An Offer!!!!
Offered at: $85,000

Proudly Presented By:
Peggy Golden -
Office: (805) 349-7777
Direct: (805) 260-8410
E-Mail: peggygolden1@gmail.com

9278 Highway 101 #11 -
Los Alamos
CHAMPION REAL ESTATE
Never Been Lived In And Very Beautiful. Amenities Include And Island Style Kitchen And Dining Room With Cherrywood Cabinets, Indoor Laundry Room, Nine Foot Ceilings Throughout, Numerous Skylights, Rock Fireplace In The Living Room And Large Covered Porch Facing San Antonio Creek And Views Of The Oak Studded Hills. You Also Get Upgraded Light Fixtures And A Walk-In Closet In The Master Suite. This Modular Home Features 2 Bedrooms, 2 Bathrooms And Approximately 1,600 Square Feet Of Living Space. No Age Restriction.

Situated In One Of The Best Locations In Los Alamos Near Shopping With Easy Freeway Access!!!!

One Look And You'll Fall In Love!!!!
Offered at: $180,000

Proudly Presented By:
Peggy Golden -
Office: (805) 349-7777
Direct: (805) 260-8410
E-Mail: peggygolden1@gmail.com

721 Via Vista Verde -
Orcutt
CHAMPION REAL ESTATE
SOLD!!!!
Beautiful Is The Word That Best Describes This Single Story 4 Bedroom, 2 Bathroom Home With Approximately 1,780 Square Feet Of Living Space. This Property Is Situated On A Spacious Quiet Autumnwoods Location Backing Up To The Greenbelt. Amenities Include: An Upgraded Kitchen, An Open Floor Plan, A Great Room, A Newer Roof, Paint And Dual Paned Windows Throughout. You Also Get A Two Car Attached Garage.

The Seller Has Purchased Another, So We're Motivated To Sell!
Offered at: $534,990

Proudly Presented By:
Peggy Golden -
Office: (805) 349-7777
Direct: (805) 260-8410
E-Mail: peggygolden1@gmail.com

801 East Boone Street -
Santa Maria
CHAMPION REAL ESTATE
SOLD!!!!
Ready for new owner or investor - NOW CLEAN, NEW CARPET, PAINT & LANDSCAPING. Versatile Floor Plan w/updated baths & kit. This property has potential for extended family or investors. It Is currently separated as a 3BR/1.5 BA home and 1 BD/1 BA unit.

Situated In A Convenient South East Location Near Shopping, Hancock College

You Get Two Units For The Price Of One!!!!


The Motivated Seller

Wants This Sold Now!!!!
Offered at: $426,900

Proudly Presented By:
Peggy Golden -
Office: (805) 349-7777
Direct: (805) 260-8410
E-Mail: peggygolden1@gmail.com

2474 Village Green Lane -
Santa Maria
CHAMPION REAL ESTATE
SOLD!!!!
One Of The Finest Condos In Village Green Features An End Unit Location With A Small Fenced Yard And A Covered Patio. There Are 2 Bedrooms, 2 Bathrooms And Approximately 1,200 Square Feet Of Living Space. Amenities Include: Laminate Wood Flooring Throughout The First Floor And All Appliances Are Included In The Price Too. (Such As A Full Sized Washer/Dryer And Refrigerator). The Garage Is Close As Well.

Located In A Great Location Near Everything That This Wonderful City Offers!!!!

Make Me An Offer!!!!
Offered at: $329,990

Proudly Presented By:
Peggy Golden -
Office: (805) 349-7777
Direct: (805) 260-8410
E-Mail: peggygolden1@gmail.com

409 North Bradley Road -
Santa Maria
CHAMPION REAL ESTATE
SOLD!!!!
Enjoy This Spacious, Large North East Santa Maria Two-Story Home That Has 2 Bedrooms And 1 Bathroom Upstairs And Downstairs. So Therefore There Is A Total Of 4 Bedrooms, 2 Bathrooms And Approximately 2,200 Square Feet Of Living Space. Amenities Include: A Formal Dining Room, A Formal Living Room, A Sensational Rock Fireplace, A Step-Down Family Room, A Large Lot With A Fenced Yard And Automatic Sprinklers. This Property Even Comes With Cathedral Ceilings, A Pantry And A 2 Car Attached Garage.

Situated In A Wonderful Family Neighborhood Just Steps To A School!!!!

Lots Of House For A Must See Price!!!!
Offered at: $469,000

Proudly Presented By:
Peggy Golden -
Office: (805) 349-7777
Direct: (805) 260-8410
E-Mail: peggygolden1@gmail.com
PLEASE BE SURE TO MENTION TO PEGGY THAT YOU SAW HER WEBPAGE ON CALCOASTHOMES.COM