*CALCOASTHOMES.COM is a Newsletter Featuring Fine and Affordable Properties with information supplied by licensed Realtors
CARMELA RYAN WITH COLDWELL BANKER BEACHSIDE REALTORS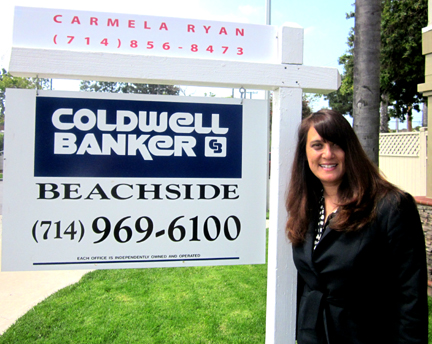 Call Carmela For All Your Real Estate Needs at: (714) 856-8473
Carnela's E-Mail Address Is: ryan.carmela@yahoo.com
Carmela's DRE License Is: 01913955

About Carmela:

Carmela is married and has two sons, ages almost 16 and almost 20, she formerly worked for a subsidiary of Canon USA where she achieved the prestigious President's Club Status and her last position was as a Senior Graphics Systems Account Executive to Print-for Pay accounts, one of them was Kinko's. In her free time she is a Certified Aerobics Instructor and teaches many formats for LA Fitness where she has worked for over 12 years and she currently is a Professional Soccer Referee you may see her at the Huntington Beach Sports Complex trying to run out of the way of the very fast competitive co-ed indoor soccer athletes and having fun making sure everyone gets a chance to play without drama!
In her athletic resume she was formerly a three sport Varsity athlete in Cross-Country, Track and Field and Girls Soccer, has won awards for coaching Championship Soccer teams, including American Youth Soccer Organization Region 5 Boys Under 10-Volcanoes Region 5 Champions, members included her eldest son, Steven Ryan. Other Championship teams included top 4 teams in the nation for Boys Under 12: 3 vs 3 indoor 3v3 live, 4th place in the Nation-Las Vegas Championship 2005 and numerous running achievements including first place Half Marathon Girls U15, CIF first place James Logan High School, Nion City, Ca. 3rd leg of the 1600 meter girls relay.
Carmela played woman's 18 and over Open/A division USALSO Bon Accord, but I was never a professional soccer player, as there were no professional teams at the height of my playing career!
My Listings:

16341 Angler Lane -
Huntington Beach
COLDWELL BANKER
BEACHSIDE REALTORS
PLEASE COME TO MY OPEN HOUSE SATURDAY JUNE 9TH AND SUNDAY JUNE 10TH FROM 1PM TO 4PM HERE

This Is The Nicest Property Currently On The Market In The Entire Vicinity!!!!!!!
Offered At: $849,900

Proudly Presented By:
Carmela Ryan -
Cellular: (714) 856-8473
E-Mail: ryan.carmela@yahoo.com
PLEASE BE SURE TO MENTION TO CARMELA THAT YOU SAW HER WEBPAGE ON CALCOASTHOMES.COM